CIS 300 correcting errors
If after filing a CIS 300 monthly return online you realise that you have made a mistake, then you can simply make an amendment to your data and resubmit the CIS 300 to HMRC. Details of how to do this are given below:
Make the relevant changes on the 'CIS – Payment Details' screen. If the payment period is locked then first unlock it by pressing 'CTRL-U' on the keyboard or click the 'padlock' symbol on the toolbar.

After making your changes click 'Tools' then 'Online Filing' then 'IDs and Passwords' from the main menu. Tick the box marked 'Temporarily allow submissions to be resent' and click 'OK'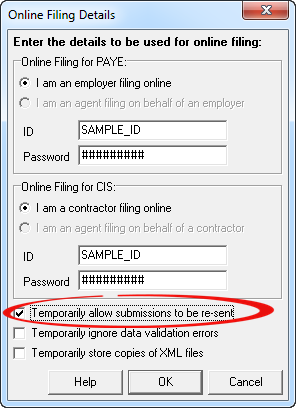 Click 'CIS' then 'Monthly return CIS300' from the main menu in Payroll Manager. Click the 'Produce report' button next to the relevant month.
Select the 'File Copy' layout from the drop-down selector at the top of the report and check the figures if you wish. (Note: the layout of the report has no effect on the actual data submitted to HMRC – the 'file copy' layout is simply easier to read on screen).
Click on text at the top of the report marked 'A Monthly Return CIS00 for (date) was filed on (date) – click here to re-submit'. Your amended CIS 300 will be submitted to HMRC in the usual way.
Notes and Examples
When correcting errors Payroll Manager sends a complete replacement CIS 300 report, as per HMRC requirements i.e. it is not just the corrections that are sent, but the complete payment details of all CIS subcontractors that are being paid in that period.