Resubmitting the final EPS after sending YEA-FPS
On some occasions you may need to resubmit your final EPS for the year – e.g.. if you have made changes to your payroll that have affected parenting pay (SMP, SAP, SPP etc) and have then filed a YEA-FPS to report these changes to HMRC. The EPS allows the employer to claim the recovery on these items of statutory pay.
Make sure that you have the correct file open on the screen. Click 'File' then 'Open' from the main menu if you need to select a different year.
Click 'Tools' then 'Online Filing' and then 'IDs & Passwords' from the main menu, and tick the box marked 'Temporarily allow submissions to be re-sent'. Click 'OK'.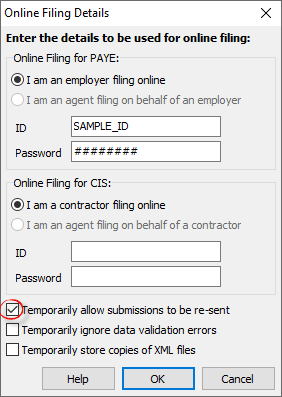 Click 'Pay' then 'Employer's RTI Schedule' from the main menu, then click on the 'View' button to display the final declaration EPS

Details of the EPS are shown on the report. You should check that the Year-to-date parenting pay figures are correct before clicking on the bar along the top marked 'click here to re-submit'.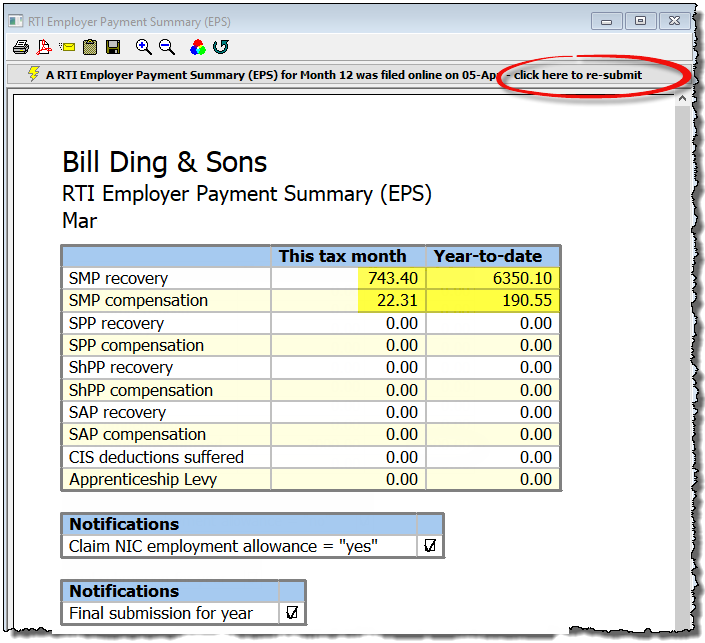 Payroll Manager will submit the EPS in the usual way. You should then check for the HMRC response to verify that the submission was successful.