Payroll corrections in the CURRENT tax year

Please follow this guidance if you need to correct an error for tax year 2019-20. If your correction relates to an earlier tax year, or if you have already submitted the last FPS of the current tax year, then please see the 'Corrections in Earlier Tax Years' section at the bottom of this page instead.

When you discover that there was an error in your payroll information (e.g. the pay for an employee was incorrectly recorded) after filing the Full Payment Submission (FPS) return then HMRC require that you submit the correct Year to Date figures in the next available scheduled FPS (see HMRC Fix problems with running payroll guide for details). Payroll Manager will automatically include updated year to date figures in the next available FPS. All that you need to do is to edit the relevant figures by following the steps below:
1) Payroll Manager automatically 'locks' a pay period once the RTI return has been sent. In order to make an adjustment you need to 'unlock' that particular pay period first. Go to the 'Pay Details' screen, select the relevant employee and click on the pay period that you wish to amend. Then press 'CTRL-U' on the keyboard (or click the

button on the Pay Details toolbar) and confirm that you wish to unlock this period.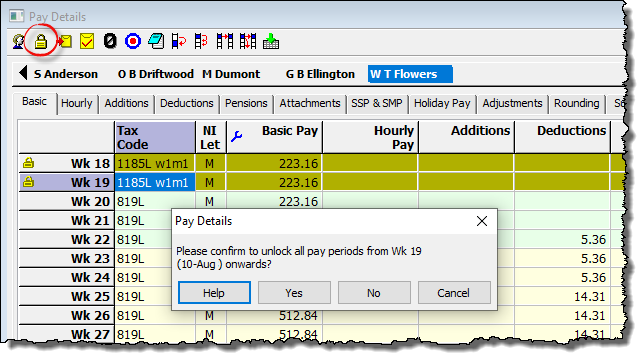 2) Make the relevant change(s) to the employees pay.
3) If you are editing a period for which the Tax & NIC has already been paid to HMRC then go to 'Pay – Tax & NIC actually paid' and record the amount that was actually paid to HMRC in the 'Amount Paid' field (you should untick the 'Pay the total due' box in order to enable this). This figure may be different from the 'Total Due' amount shown on the screen as a result of the changes that you have just made.

And that's it! When you submit your next regular RTI return HMRC will receive the updated year to date figures (these figures are included in the underlying code of all FPS returns although you will not see them displayed on the screen/report).
Note: You should never attempt to 'resubmit' an FPS for a previous pay period, as this could potentially cause problems with HMRC systems.
Special circumstances – If an employee has left.
On some occasions you may need to inform HMRC of payroll corrections for an employee that has already been reported as having left in a previous RTI return. In order for the year to date details of this employee to be included in the next RTI return then you should first click 'Employees' then 'Employee Details' from the main menu in Payroll Manager, select the 'Work' tab, and tick the box marked 'Re-submit RTI leaver details', before clicking 'OK'.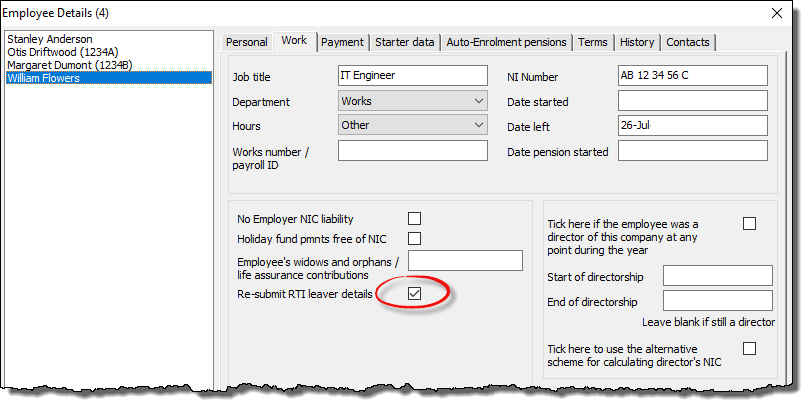 The leaving information for this employee will then be resent in the next RTI return (the underlying code of which will also include the updated year to date totals).
Corrections in Earlier Tax Years.
If your correction is for tax year 2018-19 or if it is for 2019-20 but you have already filed your final FPS then please refer to our guide Payroll corrections in PREVIOUS tax years.
If your correction is for tax year 2017-18 or earlier then please refer to our guide Payroll corrections for tax years 2017-18 and earlier instead.