HMRC problem when attempting to file RTI returns- IDs and Passwords
17 July 2023
There is currently a problem with the Government Transaction Engine which is causing RTI submissions to be rejected and for it to report that your User ID and Password is incorrect. Payroll Manager will display a message similar to that below: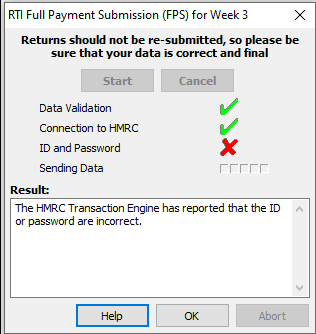 HMRC are aware of this issue, and acknowledge it via their @HMRCcustomers Twitter account 
If you are trying to submit a return to HMRC and are seeing this message then we would advise that you try again at a later point. Please do not contact Moneysoft about this issue, as we have no control over HMRC systems.
The telephone number for HMRC online services is – 0300 200 3600