Health and Social Care Levy
A new 'Health and Social Care Levy' to fund investment in the NHS and social care is to be introduced from April 2022 .
From April 2022, National Insurance contributions for working age employees, self-employed people and employers will increase by 1.25% and will be added to the existing NHS allocation. The NIC rate for most employees was 12% in 2021-22, and this will rise to 13.25% in 2022-23. The rate at which employers pay NIC will also rise from 13.8% in 2021-22 to 15.05% in 2022-23.
Then, from April 2023, the Health and Social Care Levy will be formally separated from National Insurance contributions and will also apply to the earnings of individuals working above State Pension age. National Insurance contribution rates will return to 2021 to 2022 levels, and Health and Social Care Levy deductions will be shown as a completely separate item on the employee payslip. From April 2023, receipts from the Levy will go directly for spending on health and social care across all parts of the UK.
To ensure taxpayers understand that their increased contribution is helping fund public services, the Government are asking all employers to include a generic message for their employees on all payslips between 6 April 2022 and 5 April 2023 explaining what these funds will be used for. The message will read '1.25% uplift in NICs funds NHS, health & social care'.
Moneysoft Payroll Manager has been updated to include the changes that will affect payroll from April 2022. This includes the option to include the generic message on each payslip (e.g. below)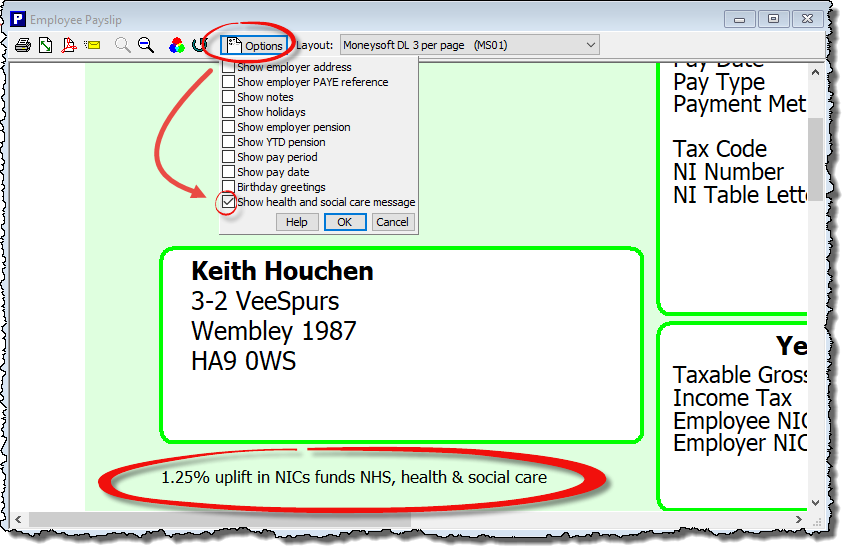 The  GOV.UK page Build Back Better: Our Plan for Health and Social Care. gives more information about the Government's plan.