Average Pay for holiday calculations
Almost all workers are entitled to 5.6 weeks paid holiday each year. This includes agency workers, workers with irregular hours and workers on zero-hours contracts. Where a worker has fixed hours and is paid a salary, they continue to receive their salary whilst on leave. However, where workers undertake regular overtime, or have variable hours, their holiday pay should be calculated using a reference period.
From April 2020, the reference period is being extended to 52 weeks (in previous years the reference period was 12 weeks). Payroll Manager does not calculate an employee's holiday pay (as in many cases it does not have enough data to do so accurately) and you should consult HMRC Guide to Holiday Entitlement for more details on how to calculate holiday pay. The software can however produce a report which may help with your calculations – the 'Average Pay' report.
Producing the report
From the main menu in Payroll Manager click 'Analysis' then 'Annual and Average Pay'. Select the appropriate employee, and click 'OK'.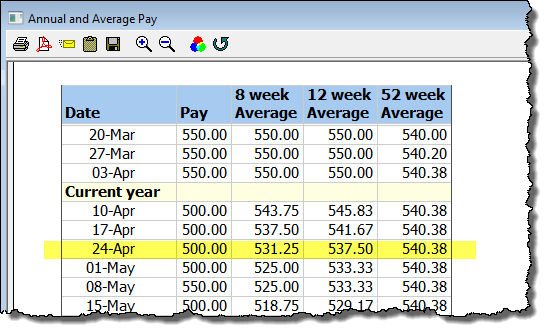 This report will show the pay for this employee for all pay periods in the current tax year, and also (if available) for all pay period in the previous tax year. Please be aware that the report can only show previous year data if you were using Payroll Manager to process the payroll for this employee in that tax year. The '52-week average' column will appear on the report from April 2020 onward.
There are columns for the 8-week, 12-week, and 52-week average. In the example above, as of 24 April, the 8-week average pay for the employee was £531.25., the 12-week average pay was £537.50, and the 52 week average pay was £540.38.
Limitations
The holiday pay rules state that weeks in which no pay was earned are discarded from the calculations – e.g. if an employee was only paid in 51 of the previous 52 weeks, then you would discount the unpaid week, and instead back 53 weeks to calculate the average pay in the reference period. In circumstances where an employee has many unpaid weeks, the rules allow you to go back for a maximum of 104 weeks in order to calculate the average. Such calculations are beyond the scope of Payroll Manager, and you should only use the 'Average' figure produced in the report above if the employee has been paid in every pay period within each reference period. In circumstances where the employee has not been paid for one or more weeks then you should calculate the average manually.
Links
HMRC Guide to Holiday Entitlement