RTI Data Validation
Print this page?

There are a number of things an employer can do in advance to make the transition to RTI a smooth one, none more so than ensuring all employee and employer details are correct and up to date. All of the following procedures can be performed now, using your existing payroll data, to help get you ready for RTI.
Required data items
HMRC have specified that each employee record MUST contain the following information:
Full Forename or given name
Full Surname or family name
Correct Date of Birth
National Insurance number (if known) OR, at least 2 lines of an address with a post code
The Normal number of Hours that the employee works in a week
The data validation criteria for RTI is very similar to that for P35/P14 returns, so if you have previously submitted returns online using Payroll Manager then your data is likely to be already more or less complete. There are a number of validation tools within Payroll Manager which will allow you to check for any missing data or discrepancies:-
The 'Employee List' report
From the main menu in Payroll Manager, click 'Employees – Employee List', and select the layout called 'Table'. This report highlights most of the essential RTI data items, and makes it easy to spot if you have incomplete data for any particular employee. (Payroll agents could produce this report and send it to their clients for verification if required.)

HMRC have introduced a new mandatory field for RTI called 'Hours Worked', and ask the employer to indicate how many hours an employee would 'normally' work in a week. This field is shown on the final column of the Employee List report. You are required to choose from one of the following bands: –'Up to 15.99 hrs', '16 to 29.99 hours', '30 hrs or more', or 'Other'. Payroll Manager sets this field to 'Other' for all employees by default (which is an acceptable answer), but you may decide to take some time in setting this field accurately for each employee before sending you first RTI return. To see the HMRC definition of 'Hours Worked' please see www.hmrc.gov.uk/payerti/reporting/what-to-report.htm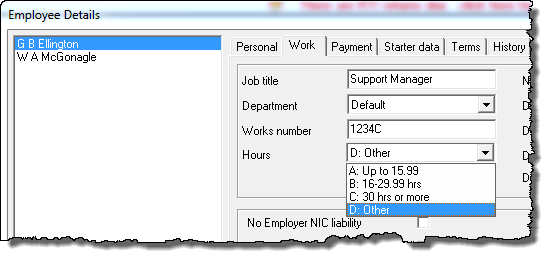 To set the hours worked, select 'Employees – Employee Details' then click the 'work' tab, and choose the appropriate band from the drop-down list.
Updating employee data
Forenames, Surnames, National Insurance Number and Date of Birth are all entered on the Employee Details screens (click 'Employees – Employee Details'. HMRC have stressed the importance of getting these fields complete and correct for RTI (see www.hmrc.gov.uk/rti/dip/get-payroll-right.htm), for example, making sure that 'Peter Smith' is not recorded as 'P. Smith' or 'Pete Smith' or even 'Mr Smith', so we would advise that you take some time in checking and amending these details if necessary.
Two more data fields which come new with RTI are 'Country' and 'Passport Number'. 'Country' is an optional field to be used if the employee lives abroad and is only required when the employee has no Post Code. 'Passport Number' is another optional field and can be recorded if employee's passport number is known, although it is acceptable to leave this field blank. Both of these fields can be accessed from the 'Employees – Employee Details' screen.
Employer Accounts Office Reference number
One further item of data that has not previously been required for online returns but is required for RTI is the 'Employer Accounts Office Reference' number. This can be entered by clicking 'Employer – Employer Details' and then clicking the 'Tax Office' tab. The Accounts Office Reference can be found on a PAYE payment booklet or on a letter sent from HMRC, and is in the format 123PA00012345.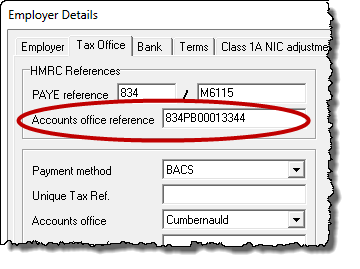 The RTI data validation tool
We have added an RTI data validation tool to all versions of Payroll Manager which you can use straight away to check that your data is compliant with the HMRC submission rules. Click 'Analysis – Data Validation for RTI' to view the RTI validation report. This report highlights any missing or incomplete data which could potentially prevent a RTI submission, and can be produced at any time – so you may wish to run the report a number of times if you are adding new data to the program.
If the RTI data validation report shows no errors, then you are 'RTI ready!'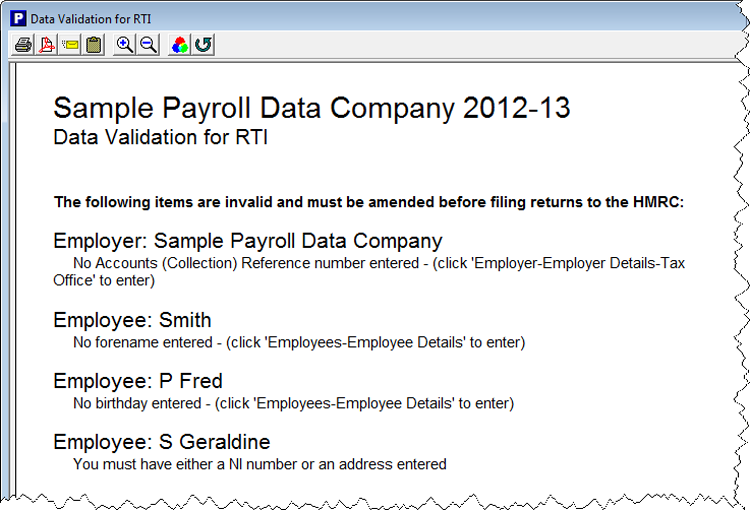 This video shows you how to get your data ready for RTI.
This video was recorded WITHOUT sound and in High Definition. Click the

button in the Youtube player to select the best quality.
Print this page?